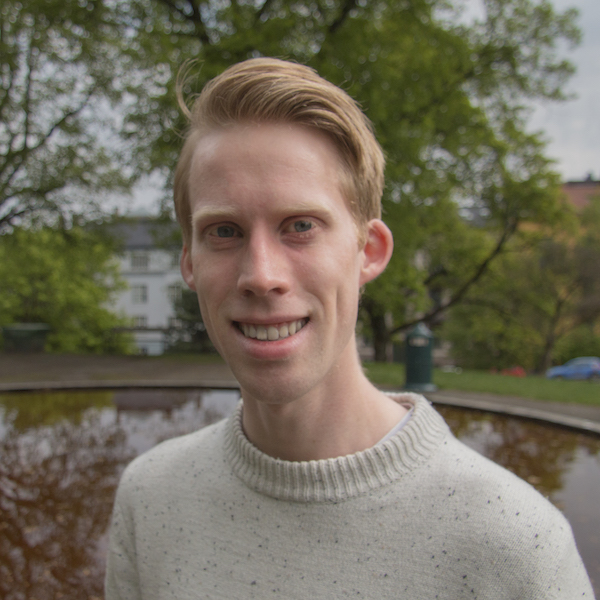 Born:

16.07.1991

Address:

Hans Nielsen Hauges Gate 6, 0481 Oslo

Email:

Phone:

+47 482 72 582

Github:
Experience
08. 2017

Hyre AS

Software Engineer, co-founder.

08. 2016 – 08. 2017

Telenor Digital

Software Engineer in the Strategic Engineering department. Focus on technology driven innovation.

06. 2015 – 03. 2016

Feat.fm (Music and concert streaming platform)

Full-stack developer. Frontend, backend, real-time chat, rtmp/hls streaming server.

06. 2014 – 08. 2014

Developed an open source Bluetooth LE platform for mbed microcontrollers.

05. 2012 – 07. 2013

The Music Garden at Ringve Museum

iPad app for showcasing Ringve Museums music catalog and instruments

02. 2011 – 03. 2016

2009 – 2013

Norges Bridgeforbund

Computer setup and tournament scoring at the Norwegian Bridge Festival

2010 – 2011

Civil conscription worker
Projects
2017

WebGL and THREE.js demo created with Ninjadev's internal demo tool, nin. Fourth place at Revision 2017, the world's largest demoscene event.

2017

An online YouTube music video generation service. It combines images with visualizations based on your music!

2016

A browser extension that allows you to put filters and effects on your webcam. It works on every website that uses your webcam!

2015

WebGL and THREE.js demo created with Ninjadev's own tool, nin. Second place at Solskogen 2015.

2015

Intro course to Bluetooth LE and mbed microncontroller programming at NTNU and HIST.

2014 & 2015

Intro course to git for all computer students at NTNU. Held by a group of five students, in cooperation with Abakus.

2014

WebGL and THREE.js demo for Solskogen demo party 2014. Won first place in the combined compo.

2013

An iPhone app for prototyping apps with photoshop, by Panes Software.

2013

WebGL demo made for Solskogen demo party 2013. Pronounced 'tunnel mountain water train'.

01. 2013 – ongoing

Compendiums for university courses, that anyone can edit.

2013

Capra code challenge

Capra consulting hosted a 24-hour hacking challenge where the goal was to develop a mobile-first application for TINE SA. Our solution was developed with django for backend using a REST API provided from TINE SA, and jquery-mobile for frontend.

2013

BEKK Robocup

Part of the winning team of BEKK RoboCup 2013. The contest involved programming Microsoft Kinect and LEGO Mindstorms.
Full list of projects on Stianj.com
Education
2011 – june 2016

NTNU

Masters degree in computer science, w/ specialization in complex systems and machine learning.

2009 – 2010

Trondheim Katedralskole

Secondary school, exact sciences

2007 – 2009

Heimdal VGS

Secondary school, exact sciences
Skills
JavaScript/TypeScript (React, React Native, Webpack...)
Node.js (Express.js, Mongoose...)
Python (Django)
Postgresql
HTML + CSS/SASS
iOS (Swift and Objective C)
PHP
Rust
Git
Vim
Linux / macOS
AWS + Terraform
WebGL / Web Audio API / WebRTC
Bluetooth LE
Photoshop